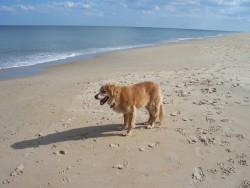 Sherman

BENEFITS OF CANINE & EQUINE MASSAGE
Massage for every stage of your pet's life:

Puppies & Foals

Helps with early socialization

Helps relieve discomfort during growth spurts
Postsurgical or Postinjury Patients
Reduces stiffness, helping to restore mobility to injured areas

Helps increase range of motion after surgery
Athletes
Provides improved athletic performance and endurance

Helps with injury prevention by increasing range of motion and enhancing muscle tone
Senior Dogs & Horses

Provides relief from chronic pain and discomfort associated with arthritis, hip dysplasia, etc.

Prevents atrophy by keeping muscles toned as activity decreases with age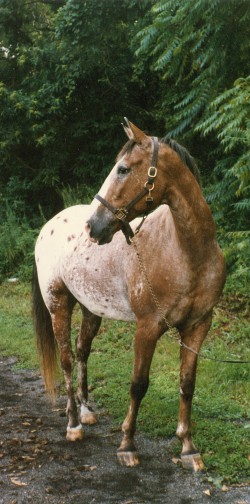 MASSAGE IS NOT PETTING!

Petting your animal is an essential part of your relationship with him or her. However, massage is a specialized form of therapeutic touch, utilizing specific strokes and pressures for specific results.

MASSAGE IS NOT A SUBSTITUTE FOR VETERINARY CARE!
Massage should never be considered a substitute for veterinary care. If your animal is injured or if you suspect a health problem, please contact your veterinarian IMMEDIATELY!

Rafter's Natchez
Gumboots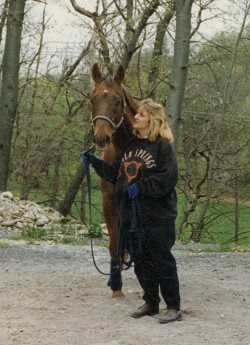 ANIMAL MASSAGE CERTIFICATIONS & SPECIALIZED TRAINING
50-hour Equine Sports Massage Therapy Certification ~ Equissage, Round Hill, VA

50-hour Canine Massage Therapy Certification ~ Equissage, Round Hill, VA

45-hour Equine Therapy & Massage, Equine Science Program ~ Delaware Valley College, Doylestown, PA

40-hour Certified Groom Elite® 101 Horsemen's Education Program ~ Penn National Racecourse, Grantville, PA

18-hour Certified Groom Elite® 201 Horsemen's Education Program ~ Penn National Racecourse, Grantville, PA

14-hour Seminar/Workshop ~ Masterson Method® Integrated Equine Performance Bodywork

100-hour Therapeutic and Maintenance Massage Therapy Program ~ Rocky Mountain School of Animal Acupressure and Massage, Cape Coral, FL

24-hour Advanced Massage for the Canine Athlete Workshop ~ Ken Bain, LMT, Cape Coral, FL

100-hour Canine Sports Massage Therapy Program ~ Rocky Mountain School of Animal Acupressure and Massage, Cape Coral, FL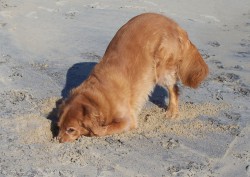 Cooper